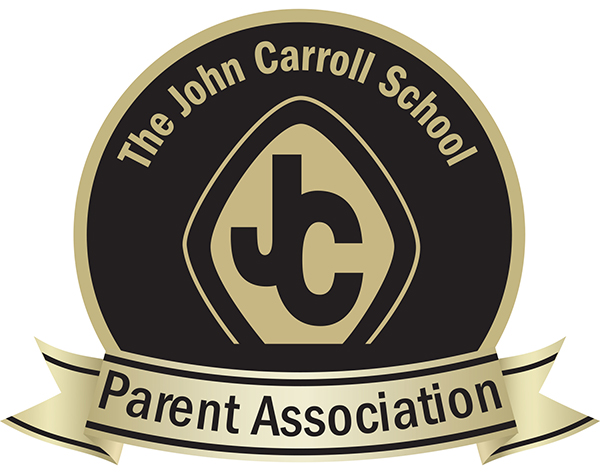 Welcome, Patriot Parents!

Parents play an essential role in The John Carroll School's commitment to educate their children. You were your children's first teachers and continue in this role as you model desired behavior, help with homework, and play and work with your children, while shaping them into responsible and compassionate young adults.

Thank you for all that you have done and continue do to help us do our job better.
 
---
Parent Association Officers

 

We're thrilled to share the following parents have committed to serving the John Carroll ParentAssociation in the 2023–2024 school year: Lisa Tribull-Bair (Chair), Sharon Jacobs (Vice Chair), Christina Baumgartner (Treasurer), Heidi Dombrock (Secretary) and Ginger Miller(Concessions). Thank you, parents, for dedicating your time and talent to our community!
Parent Association Scholarships

 

Each year, the Parent Association awards two $1,000 scholarships to graduating Seniors. The scholarship is awarded to the students whose applications show the most participation in extracurricular activities, willingness to participate in service opportunities, and support of John Carroll.

Applications are currently closed and will reopen in the Spring of 2024.
Parent Association Purpose

 

Parent Association Purpose & Objectives:

To create and foster a spirit of parental involvement in The John Carroll School.
To have members take an active interest in the academic, social, and moral welfare of the School.
To promote active participation of all members in the fund-raising activities of the School.
To unite the members in bonds of friendship, good fellowship, and mutual understanding.
To provide a forum for the full and free discussion of all matters of School interest.
To encourage Christian standards in the School community.
To partner with the Board of Trustees and administration fulfilling the mission and strategic objectives of the School.
How We Give Back

 

The John Carroll Parent Association (JCPA) is proud to be a strong partner in our school community. Through countless volunteer hours, our parents, grandparents and families have worked closely with faculty and students to positively influence campus life. We extend a big THANK YOU for all that have given their time and energy to the PA.

During the year, we sponsor events and sell Senior Banners and concessions, among other activities. Through these efforts, we have been able to invest in the school and our students.  

The JCPA is proud to have made substantial gifts over the past several years which have supported many important campus updates, including the new Brown Fitness Center, the installation of air conditioning in the performing arts hallway and rooms, and the Welcome Center at the main entrance. 

We also support the school by volunteering our time through activities such as assisting with Open House, serving as JC Ambassadors, and providing faculty support, just to name a few.

We look forward to continuing the tradition of excellence with all of our dedicated volunteers, faculty and staff.  Please consider becoming an active member of the Parent Association. It is a rewarding way to be involved and stay informed! Go Patriots!
VIRTUS Compliance System

 

VIRTUS Compliance System (formerly Shield the Vulnerable, STAND)

An Archdiocesan educational tool that brings volunteers to the current level of awareness in protecting our youth. Each individual learns to recognize signs of child abuse, when and where to report suspected abuse, and ensures the behavioral expectations defined in the Archdiocese's Code of Conduct and Statement of Policy.

Please read the full description of the VIRTUS Compliance System and view the instructions on how to register online for VIRTUS.