John Carroll Summer Programs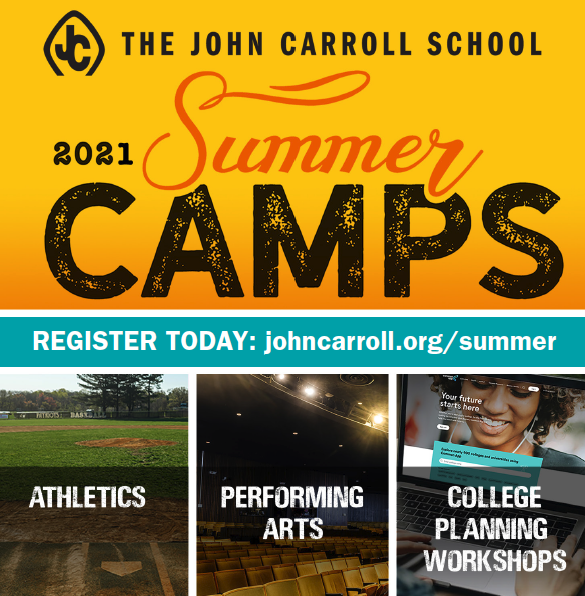 Click one of the links below for additional information or to register for camps. 
Athletics Camps      Performing Arts Camps     College Planning Workshops     STEAM Camps
COVID-19 Camp Health Guidelines 
Due to State guidelines, we are not permitting out of state campers; we apologize for any inconvenience this may cause. 
Before proceeding to the John Carroll campus each parent/legal guardian is requested to check their child's temperature and symptoms associated with COVID-19. 
All camp personnel, campers and parents/legal guardians who wish to be admitted to camps must undergo daily health screenings.
Within the last 24 hours have you had any of the following symptoms?:

Cough
Shortness of breath
Fatigue
Muscle or body aches
Headache
Sore throat
Congestion or runny nose
Diarrhea
Fever of 100.4 degrees Fahrenheit or higher
Chills or shaking chills
If a camper, staff member or a parent/legal guardian possess any of these symptoms or a temperature of 100.4 degrees Fahrenheit or higher during check-in health screenings or during camp they will not be permitted to participate and will be asked to leave the campus and follow up with their medical provider.
Each camper must come with a face mask and we kindly request that parent/legal guardians do not enter the camp area unless they are carrying medication for their camper. Parents entering the camp area will be required to follow social distancing protocol and come with a face mask.
For questions about Summer Camps, email Linda Nitchie, Coordinator of Camps and Campus Services.
Summer Enrichment
2021 summer enrichment will be offered August 9 -20.